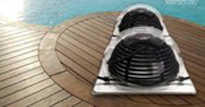 This original solar collector makes easier heating swimming pools with solar energy. Due to its spherical shape, it is constantly receiving the sunrays, independently of the roof's direction and inclination. It is ideal for cloudy days.Its light weight (8 kg.) takes a little space, because of this, it is easy to assemble, saving time and labour. Being 100% plastic material, it is corrosion-free from lime incrustations, and can be used directly with the pool water.In spite of being light, it is strong and resistant to the wind, storms, hail and snow. Also, it can work at low temperatures, and it does not need a security installation for overheating. It has more than 20 years of life.
Installation stands out for its simplicity, because it is not necessary to use any kind of heat exchanger or accumulator, and pool water recirculates directly through the collectors, which are protected against chemical agents used at swimming pool water purification.
It doesn't need maintenance, it is ecological and economical.
In pools heated by means of solar energy, it is essential to install a thermal or automatic cover because of their insulating power in order to preserve the water temperature.