GL800 XL
Large dimensions elegant forms…

An impressive combination of massage :
62 jets including jets for foot therapy , massage twins ( lying position) and back. 2 waterfalls for animation water.
A comfortable reclining position and 5 comfortable and elegant seatings
Technical characteristics
6 Places; 5 seating 1 lying
Dimensions 231 cm x 231 cm x 99 cm
Curb weight 408 kg
Water volume of 1,703 liters
Massage Jets 62 Jets
Massage Pump 2 Pump 2.5 CV
2 filter cartridges
Filtering one filtration pump 24 hours
2 Interior LED Lighting, Ozonator, 2 Waterfalls
2 pillows headrest treated anti UVI
Cover thickness of 5 cm to 10 cm in the center
Lamas maintenance coating synthetic
Base completely isolated
Cuba Marble Color White
Electricity 230 V
1 Heater 4 Kw
Ipod docking station +
Remote control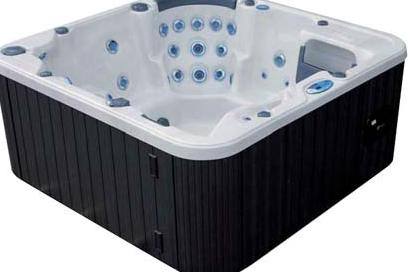 GL 500
An impressive number of jets: 34 in total, including jets for twins, feet and back.
His equipment includes a cascade of 18 cm, ozonator, LED lights, 2 cushions anti UV treated, air control…
Optimized space that combines beauty and comfort, it includes a lying position and sitting in various seats 4 heights.
Technical characteristics
Number of Seats: 5 Seats; Seating places: 4 lying 1
Dimensions 198 cm x 211 cm x 91.5 cm
Curb weight 328 kg
Water volume of 1,040 liters
Massage Jets 34 Jets
Massage pumps 1 Pump 2.5 CV
1 Filtration Filter Cartridge
1Heater April 1 Kw
2 Interior LED Lighting, Ozonator 1 Waterfall
2 pillow headrest treated anti UVI
Cover thickness of 5 cm to 10 cm in the center
Lamas synthetic maintenance coating
Fully insulated Base Bas
Cuba Marble Color White
Electricity 230 V